Skip to main content
It looks like you're using Internet Explorer 11 or older. This website works best with modern browsers such as the latest versions of Chrome, Firefox, Safari, and Edge. If you continue with this browser, you may see unexpected results.
How to use this guide
Educate
The goal of this guide is to educate faculty about strategies to reduce textbook and course material costs and its benefit to student equity and success. It is designed as a resource for information about openly licensed course materials.
See the information below on this page for more about what is OER and ZTC (and it differences).
Find
This guide has lists of suggested open educational resources repositories, both general and by subject. The goal is to promote no cost learning materials for faculty selection by reducing the time you spend searching for materials that you can legally use for your courses.
This guide is NOT a complete list of OER repositories.
This site is in progress! If you are using an OER that you would like to be listed here, email me at williak2@arc.losrios.edu
What are OER's?
Open Educational Resources (OER) are teaching, learning and research materials in any medium – digital or otherwise – that reside in the public domain or have been released under an open license that permits no-cost access, use, adaptation and redistribution by others with no or limited restrictions.*
The 5 R's of OERs are: **
Retain

– permission to make, own, and control copies of the content (e.g., download, duplicate, store, and manage)
Reuse

– permission to use the content in a wide range of ways (e.g., in a class, in a study group, on a website, in a video)
Revise

– permission to adapt, adjust, modify, or alter the content itself (e.g., translate the content into another language)
Remix

– permission to combine the original or revised content with other material to create something new (e.g., incorporate the content into a mashup)
Redistribute

– permission to share copies of the original content, your revisions, or your remixes with others (e.g., give a copy of to a friend)
OERs vs. Free Library Materials vs. Commercial Textbooks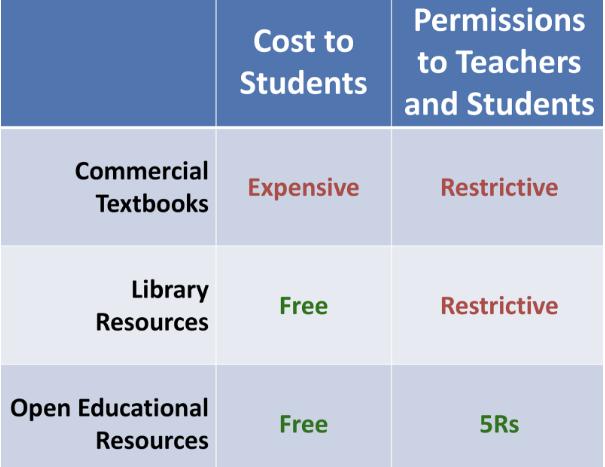 ** Creative Commons Certificate Course Unit 5.2
*** picture Creative Commons Certificate Course Unit 5.2
ZTC & SB 1359
The Zero Textbook Cost logo is a logo that shows up in the class schedule indicating which courses do not have any textbook costs. This is a California State law through SB 1359.
If you want to read SB 1359 or any other related information, the Affordable Educational Resources Committee at SCC compiled a "manifesto" of all things OER, which includes laws related to OERs.
No cost for course materials such as:
Traditional print textbooks,
Online or ebook textbooks,
Ancillary materials,
Access codes to homework websites,
Online subscriptions,
Courseware packages,
Lab manuals,
etc.
Usually does not include items such as:
lab coats
goggles
notebook paper
art materials
thumb drives
calculators
A course does not have to be using openly licensed course materials to get the ZTC logo, but the logo does require that the cost for course materials is free.